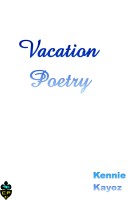 So i've been saying this since being on vacation but vacation has been done for quite sometime and I want to get things posted… So I finally have Vacation Poetry online, it's a short collection of poetry I wrote while on vacation.
It's immediately up on Smashwords and for anyone else who reads who doesn't read things on smashwords your going to have to wait as per usual to get it, it should only be up to a week but it depends when things get approved.. Things are quicker than they use to be for getting approved so don't worry it'll get out to you soon enough.
The vacation sucked for a few reasons and you can read it by clicking the cover to the left.
Kennie